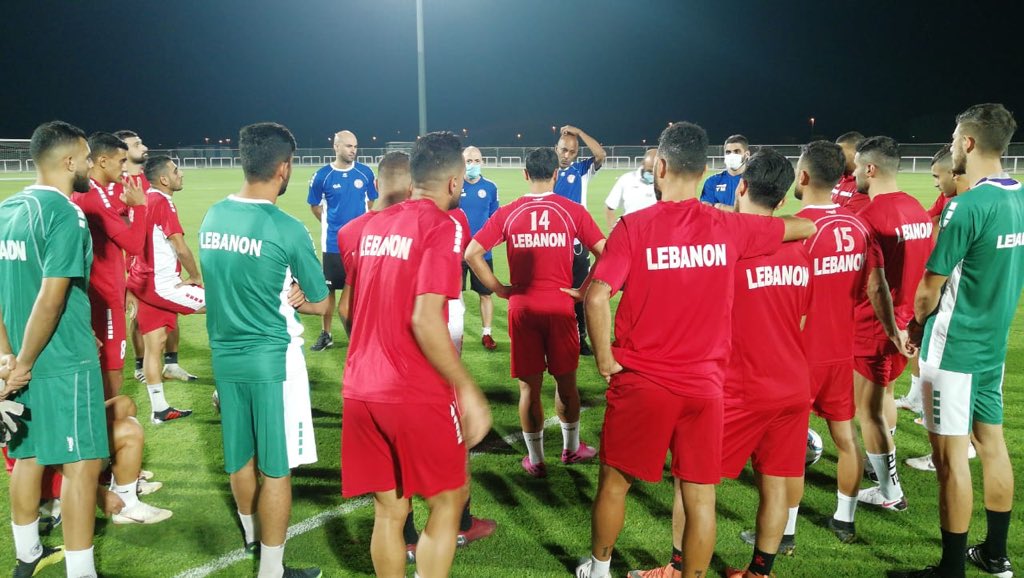 359 days since the last time the Cedars took to the field. I think we can all agree this is way too long and everyone is eager for the National Team to get back into action. But since Lebanon's 0-0 draw with North Korea in Beirut last year, a lot has changed and there is a lot to look out for on the Cedars' return.
After the 0-0 draw with North Korea, Lebanon's hopes of qualifying for the third round of World Cup qualifying were damaged and the great optimism that had followed the draw with the South Koreans a few days earlier had made way for a sense of recognition of the difficulty of the task. That is not to say that qualifying for the next round, and by consequence clinching automatic qualification for the 2023 Asian Cup, is impossible and Lebanon's destiny is still in their hands with an upcoming trip to remote Turkmenistan being key.
However, the head coach leading the Cedars into the final rounds of qualifying isn't the same man who was there when it began. Indeed, the Romanian Liviu Ciobotariu left earlier in the year after his contract expired and he was replaced by his assistant coach and Lebanese icon Jamal Taha, who became the first Lebanese coach of the National Team in 9 years. In his inaugural press conference, the Ansar legend presented his plans for the National Team, which included increased cooperation and coordination with the youth national teams and the Lebanese Premier League clubs and a long-term vision to rejuvenate the National Team in time for the 2023 Asian Cup.
Progress on these plans has obviously been slow due to the coronavirus pandemic and the economic crisis hitting the country but as Lebanon prepares to take on Bahrain in a friendly match today as part of a week-long training camp in Dubai, there are a few things I wanted to highlight for fans to keep an eye on:
1- The start of the Jamal Taha era
Indeed, today will be the first time that Jamal Taha leads the National Team and even though it is a friendly match all eyes will be on the 53 year-old in the hot seat. Jamal Taha has been rigourously working throughout recent months.
Firstly, he called up a group of uncapped players who were former youth internationals for a series of training sessions in order to evaluate the level of the next generation of players which he wanted to build the national team around as per his vision.
And then when the league started, there were regular training sessions for the more established members of the team which mainly focused on strength and conditioning.
But it is really today that we will get a first sight into what the Jamal Taha era may look like and although he was part of Liviu Ciobotariu his predecessor's backroom staff there's a lot of uncertainty regarding how we will set the team up now that he is the main decision-maker.
Ciobotariu tried to transition the National Team from Radulovic's conservative approach and his 5-2-3 system heavily reliant on defensive organisation and discipline and counter-attacks to a possession-based 4-2-3-1 system giving the attacking players the freedom to express themselves.
Both players and fans will hope Taha doesn't deviate too much from that approach but it will be fascinating to see which system he uses and which players he is looking to rely on. Today's team selection will give us our first insight into this. We will also see what he is like on the touchline for the first time, the types of substitutions he makes and we will learn about the general spirit that he will be transmitting to the team.
2- New faces
This may be the thing fans will be most looking forward too: the additions to the squad. It is unfortunate that today's match will not be broadcasted as it will most likely see three players make their National Team debuts. Two of those are completely new to the National Team and have been recruited from abroad.
Muhammad Ali Dhaini arrives from Sweden where he plays in the Superettan (second tier) for Trelleborg. The 26 year-old is a holding midfielder who has slowly made his way up the Swedish football pyramid and will be hoping to follow in the footsteps of the likes of Abbas Hassan and the Melki brothers to have come from Sweden and become important players in the National Team. And with Haitham Faour having retired from international football and Adnan Haidar yet to find a club after leaving Ansar in the summer, there is a gap to be filled.
Meanwhile, Khaled Mohssen is a 22 year-old central midfielder who came through the youth system at Hamburger SV where he went on to captain the Reserves side before joining fellow German fourth-tier side Phonix Lubeck. He is not the only newcomer to have started his career in Germany, with Ansar centre forward Karim Darwiche also having received a first call-up. Darwiche has started the season in very good form for Ansar and the 22 year-old will be keen to make a good impression.
Another player who can be considered a newcomer even he made his debut – and up till now sole appearance – back in 2014 is Shabab Sahel's Abbas Assi. Ordinarily a central midfielder, the 25 year-old has been grabbing the headlines in the domestic league this season from right-back, scoring three goals already and as a result earning his side 7 points.
In addition to new faces, the squad selected by Jamal Taha included several players who were returning after long absences. Nassar Nassar and Maher Sabra, full-backs at Ansar and Nejmeh respectively, have both returned from very long-term injuries, with Nassar being out since the end of 2018 and Sabra not having played for the Cedars since 2017. Both players have been performing really well in the domestic league this season and will enter the fierce competition for places in both full-back positions. Furthermore, there is another opportunity for young goalkeeper Mostafa Matar, now at Tripoli, after he had been distanced from the National Team due to a dip in performance levels.
It is important to note that the window opened for all these new faces because of numerous absences among the established members of the National Team, but these absences will give opportunities to new players and players usually on the fringes and we can learn a lot regarding the future of our team under Jamal Taha thanks to this.
Mahdi Khalil's injury gives a rare opportunity for young goalkeepers such as Matar and Ali Daher, also in excellent form this season, to show their credentials and pick up valuable international experience. With two key centre-backs in Joan Oumari and Kassem Zein missing due to the coronavirus pandemic, this should see Alex Melki get moved into the centre of defence, the position he plays for at club level. Alex's brother Felix is also absent and will leave a gap in midfield, especially considering Adnan Haidar is also missing, with Taha having numerous young players to choose from to replace them, from the two newcomers Dhaini and Mohssen to Shabab Sahel duo Assi and Houssein Rizk and Ahed's Hussein Monzer. Mohamad Haidar and Rabih Ataya were the main creative forces in Ciobotariu's team but they are both also absent and this could give Soony Saad, who is now playing in South Korea, another opportunity to show his true level in the red shirt. And finally, the striker position is very much up for grabs with Helwe and Bugiel not available, and Darwiche will be competing with Ahed's 23 year-old striker Mohamad Kdouh for that position, with the latter also enjoying a fine start to the campaign.
3- A new role for a rejuvenated Maatouk
National Team captain Hassan Maatouk has been and remains the first name on the team sheet for any manager but recently he had been struggling to match the extraordinary performance levels we had been accustomed to seeing from him all these years. We even reached a stage where people were calling for Lebanon's record all-time top goalscorer and joint record appearance-maker to be dropped.
These noises have all gone away now that Maatouk has started the league season on fire, racing Ansar to the top of the league after 6 games, leading the competition both for goals scored (6) and goals assisted (3). Even at 32 years old, the legendary winger looks as sharp as ever. However, what is interesting is that these performances have come from a slightly different role to his customary position. Indeed, we had gotten so used to seeing Hassan Maatouk play down the left hand side as a winger, taking on defenders for fun and running to the byline or cutting on his right foot. But now he has impressed in a new role for Ansar, playing in off the right hand side as inside forward. This position has seen him be more involved in the play and he is taking up dangerous positions in between the lines and in the half-spaces, making him more difficult to mark and enabling him to cause huge problems for opposition defences.
It remains to be seen whether Jamal Taha chooses to revert Maatouk to his traditional position but it had become noticeable that opposition teams were targetting him and, man-marking him with two or sometimes even three players, this being a main cause for his slight dip in performances. His new role seems to help him circumvent that and while it is specific to the system deployed by Ansar's Iraqi head coach Abdelwahab Abu Al Hail, Taha could do well to stick Maatouk in a similar role where he seems to be very more effective than when out on the wing. In addition, Maatouk has been combining very well with his teammates at Ansar, most notably right-back Nassar Nassar, striker Karim Darwiche and attacking midfielder Hassan Chaito Moni and it will be intriguing to see if Taha looks to recreate those lethal combinations with the National Team.
4- The time for Bassel Jradi, finally
Getting the best out of Bassel Jradi has proven to be somewhat of an enigma for recent managers of the National Team. Bassel Jradi has the potential to be one of the best players in Asia and there is obviously a great will to find him a role in the team that can see him thrive but so far these attempts have been to no avail. Of course this is partly due to the fact that his international career has been very interrupted but even when he plays there is a sense that we are not seeing the best from him.
And now, with Jradi being 27 years old and having become a key player at Hajduk Split in Croatia, it is time for us to see the best version of Jradi and tweak the system to suit him at the very least if not build the whole team around him. In his short international career, Jradi has played on both wings, as the man behind the striker and as the lone striker himself and while we have seen glimpses of his skill, it's still only the shadow of the player he can be.
At Hajduk Split, he is playing in a deeper role which sees him get on the ball more often and be more involved in the build-up play. However, I personally believe he would be best playing in the number 10 role behind the striker as part of a fluid system where he can combine and rotate with the likes of Maatouk, Haidar and Ataya. We will have to see where Jamal Taha sees his best position being and that would likely depend on which system he favours but what is certain is that if Jradi is to ever reach his top level on the international stage, now is the time to start as he approaches the peak of his career.
5- The emergence of new leaders
One aspect that is often overlooked when analysing a team is the characters that compose it. However this is an area that the Cedars have struggled in in the past. A lack of leadership and lack of winning mentality are two of the main causes for Lebanon's repeated inability to exceed expectations.
Yet, over the last couple of years, the dressing room has strengthened significantly with team spirit now very high amongst the players. But in Taha's first game as Lebanon head coach, he will be missing many of the big personalities and leaders of the team. Players such as Mahdi Khalil, Moataz Jounaidi, Joan Oumari, Kassem Zein, Mohamad Haidar, Rabih Ataya and Hilal Al Helwe have all become big figures for the Cedars in the evolution of this team and their absences will leave a sort of leadership void. Hopefully, this can be turned into an opportunity for new, younger leaders to emerge, something that would only enrich the team especially in the long term.
Hassan Maatouk, the captain, will be there to help the new players settle, and he does a great job at that but Maatouk is in general more the quiet type, leading by example and the team will need players to emerge and show character and personality. Some candidates could be Alex Melki and Nour Mansour at the back or Nader Matar and Hassan Chaito Moni further forward, all of which have become experienced and important members of the National Team. Matar in particular is a big personality in the dressing room and is liked by all. Otherwise, Abbas Assi has shown signs of initiative and leadership on the pitch for Shabab Sahel and as he gets more and more time in and around the team we could see him emerge as an important figure as well.
The excitement is high among fans as the Cedars return from a very long hiatus and while that excitement has been toned down by the news that the game will not be broadcasted, there is still a lot to learn from today's game as we get back good old international football and usher in the era of Jamal Taha.