On Saturday, CDA Navalcarnero take on RSD Alcala in the Spanish Tercera Division playoffs, aiming to return to the Segunda B, or third tier of Spanish football, and their full-back Victor Calarge, a Brazilian-born player of Lebanese descent, spoke to LebFootballReview about the upcoming match and about wanting to play for the Cedars.
Victor Calarge was born in Sao Paulo in 1996 to a Brazilian father and a mother of Lebanese descent and grew up there before moving to Spain in 2015. Since then, the 24 year-old has been playing mainly in the lower leagues of Spanish football after spending some time in the youth academy of La Liga side Getafe, where he had the opportunity to play against the youth teams of clubs such as Real Madrid and Atletico Madrid, scoring against the latter.
Looking ahead to the big game on Saturday, Calarge is positive about his team's chances in their playoff semi-final: " We are confident and ready for the finals. We had a great pre-season and we are just thinking of knocking Alcala out of the semi-finals". The winner of this game will face the winner of the second semi-final between Union Adarve and Alcorcon B on the 25th of July in the play-off final.
The Tercera Division season was interrupted because of the Coronavirus pandemic with ten games to go and with CDA Navalcarnero sitting six points clear at the top of the table in the regional division for the Community of Madrid. This will be the team's first competitive match since the 8th of March, but that doesn't faze the full-back: "I did everything I could to stay in the best shape and form possible. The training with CDA Navalcarnero was great, the staff had a great plan and we are ready. It's hard to come back and play the most important game of the season [off the back of] just some sessions and friendly matches but we are going to give it our best to win both games".
The Paulistano has already experienced promotion success at this level going up with UB Conquense in 2018 and he believes that having been through this before helps him approach the game in a better mindset. After gaining promotion two years ago, he played a year in the Segunda B with CF Talavera de la Reina and Club Rapido de Bouzas and although he was persuaded to drop back down a level to play for CDA Navalcarnero by their head coach Luis Ayllon, his aim, similar to that of his club's who only got relegated last year, is to return to the Segunda B and make a career at that level and higher: "Luis the coach convinced me to sign with the club [CDA Navalcarnero]. I trust him and the way he wants to play soccer. [The Segunda B] is better; there are famous clubs that play in the division and better players too. I'm definitely trying to achieve that level".
Earning promotion would also help Victor Calarge's chances of getting a call-up to the Lebanese National Team and fulfill a big aspiration of his: "It would be the greatest thing I would do in my career and my family would be proud to have someone representing this flag."
"[Playing for the Lebanese National Team] would be the greatest thing I would do in my career"
There are doubts regarding Victor Calarge's ability to represent Lebanon because of the fact that according to Lebanese law, he does not qualify for citizenship. This is due to the fact that he is Lebanese from his mother's side and Lebanese citizenship can only be passed on by the father. However, he is eligible according to FIFA regulations because his maternal grandfather is Lebanese and there is a precedent when it comes to players of Lebanese descent through their mothers being given citizenship to represent their country. Indeed, Joanne Baumier, whose mother is Lebanese and father is Canadian, was naturalized so that she can play for the Lebanese Women's Futsal team. Furthermore, when asked whether he was ever contacted by the Lebanese FA, this was his response: "Yes. It was a short conversation but it actually gave me hope that I may play for Lebanon".
After all, Victor Calarge could be a very useful addition to the Lebanese National Team. He is an attacking full-back who can play on both sides and can also play as a wing-back or even a winger. He loves to go forward and is a very skillful footballer with excellent dribbling ability. He is also fast, a good crosser of the ball and a strong tackler. It is no secret that Lebanon have lacked options in the full-back positions, especially since the international retirement of Ali Hamam and Walid Ismail. And with Shibriko and Hussein Zein yet to reproduce their club form on the international stage, and Alex Melki and Abdallah Aish being more defensive minded options, Calarge could be the answer and provide a more offensive minded alternative. Furthermore, he would fit right into the strategy of the Cedars' new head coach Jamal Taha, who is trying to rejuvenate the National Team and build the team around players born between 1995 and 2000. Taha spoke about looking to the diaspora to bolster the squad and with Calarge being born in 1996, he ticks all the boxes.
If Calarge were to be called-up, he would become the second Lebanese National Team player to have played in Spain after Nader Matar, who is now a star for the Cedars and who played in the Tercera Division as a young player with Atletico Madrid's C team as well as CD Canillas, a club that serves as the C team for Real Madrid.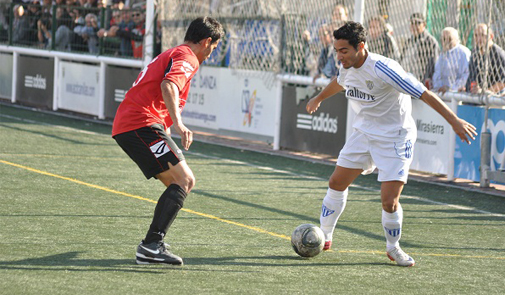 He would also be only the second Lebanese-Brazilian to play for the Cedars after Salomao Salha, who featured six times for Lebanon in the early 2000s. This is surprising indeed when we consider the size of the Lebanese diaspora in Brazil and the level of football in that country and Calarge's entry into the National Team could potentially open the door for more Lebanese-Brazilians to be recruited.
Growing up in Brazil also means that Calarge has been raised in a football environment with a culture that is very close to that which we have in Lebanon. Indeed, Brazilians, just like Lebanese, play a lot of futsal and beach soccer and that has an important impact on the playing style and football culture in both countries. This is the main reason behind the technical skill and flair prevalent in both countries and Calarge's upbringing was heavily influenced by this, something which he believes would help him to settle into the Lebanese National Team: " I played futsal when I was a kid and it helps me a lot nowadays. I think I could fit in any playing style; I always want to learn and get better, but the Lebanese National Team's playing style definitely fits with mine".
Ultimately, while promotion to the Segunda B would boost his chances of a Lebanon call-up, Victor Calarge is full focused on the task at hand and on helping his club side achieve their goal, and he is not too fussed about what this would mean for his international prospects: "I think [promotion to Segunda B] helps [my chances of getting a National Team call-up]. But I also think that with these things, they come when they have to come". However, securing promotion to the Spanish third tier would surely catch the eye of Jamal Taha and his coaching staff ahead of the return of World Cup Qualifying in the fall.